Archive for June, 2006
Wednesday, June 21st, 2006
Note: this was taken from a Wikipedia article that was nominated for deletion on the basis of non-importance. I am mirroring it here because I respectfully disagree and don't wish for the contents of this article to vanish into the ether. –basscomm
LoadingReadyRun is a comedy website created by Graham Stark and Paul Saunders that serves an original short video each week and acts as a host for eight active webcomics. Its primary draw is an archive of original comedic videos. A new video has been added every Friday since the site's inception in August of 2003 1. Nearly 150 videos have been aired, both on the website and as two DVD box-sets.
LoadingReadyRun videos have appeared and won awards at Film Festivals in the Vancouver Island area, and the site has an active relationship with the Texas comedy troupe Random Acts. LoadingReadyRun has also worked with other comedic acts such as the Arrogant Worms.
The Crew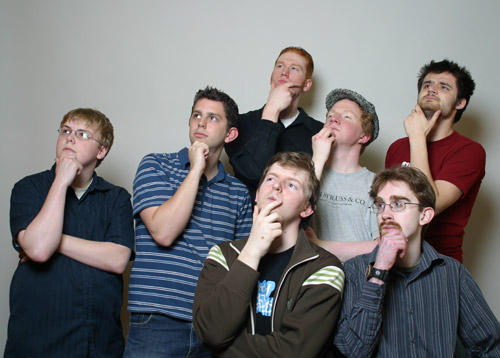 Some of the Crew members of LoadingReadyRun. Back row: Left to right Bill Watt, Morgan vanHumbeck. Middle row: Matt Wiggins, James Turner, Andy Cownden. Front row: Graham Stark,and Paul Saunders.
Paul Saunders and Graham Stark created the site and are the primary driving force behind it. Paul designs and maintains the website, while Graham edits the videos. Both write and direct the shorts while they and many others serve as actors. The LoadingReadyRun crewmembers most actively involved in the site are Jeremy Petter, James Turner, Bill Watt, Matt Wiggins, Morgan vanHumbeck, Kathleen De Vere, Lissette Arevalo, Kate Stark, Ashley Vickers, Andrew Cownden and Adam Savidan.
Content
LoadingReadyRun videos represent a variety of styles, and are organized by category. Some of the most common categories include:
Shorts: Scripted shorts in the classic style of sketch comedy. Shorts are generally approximately 5 minutes long.
Machinima: Re-dubbed and extensively re-edited footage from video games. "Celestial Sea" is a series of machinima videos created from the game Star Ocean: Till the End of Time.
Music: Music videos in various genres such as rap and showtunes appear on the site. The rap videos feature the faux-rap crew "64K," comprised of G Star (Graham), Ice tray (Morgan) and JP (Jeremy). All music featured in LoadingReadyRun's music category is originally composed, written and performed.
Sheer Stupidity: Sheer Stupidity videos are unscripted and feature the cast in a variety of situations that don't fit neatly into one of the other categories. A more sophmoric style of humor, the Sheer Stupidity videos have featured the eating of gross foods to the crew Christmas carolling on Halloween.
X ways to Y: Quasi-instructional videos set to music designed to illustrate "X" number of methods to perform activity "Y", such as: ways to get rid of a hangover, ways to get rid of your Christmas tree and ways to get killed in a horror movie.
Comics: Several webcomics have run during LoadingReadyRun's existance. Some have also been printed in The Martlet, the University of Victoria's student newspaper, such as Roomies by Graham Stark, Korea by Kathleen De Vere, Small Boy and Monkey by Anthony Fratarolli and Disce Pati. Other LoadingReadyRun comics are Canadian Waste by Ash Vickers, Cacti by Alex Steacy and Gumbubble by Mik Holmes.
Popularity
Their most popular video is "1337", a rap music video about the history of video games. It is hosted on AtomFilms and XFire and has gotten increased exposure from mentions on several high-traffic sites 2 3
LoadingReadyRun's resident fake rap group, "64K" were interviewed and featured in German video game magazine, GEE Magazine (Jan, 2006) and the "1337" music video was also featured on the magazine's DVD.
Other videos that received internet notoriety include "Uwe Boll PSA" 4, a rant against video game movie director Uwe Boll, and "Who Watches Movies" 5, a video parodying the MPAA's "Who Makes Movies" anti-piracy ads.
Awards
Several LoadingReadyRun videos have appeared at British Columbia film festivals.
Some of their selections and awards are as follows:
Suspend Your Disbelief
Audience Choice – Vancouver Island Short Film Festival
Audience Choice – University of Victoria Student Film Festival
Best Male Performance – Andrew Cownden – Vancouver Island Short Film Festival
The Professor's Funhouse
Best Writing – Edges Film Festival
Official Selection – Vancouver Island Short Film Festival
Anchovies
Winner of $2000 – BC Rock the Vote video contest
After Hours
Audience Choice – Vancouver Island Film, Video & New Media Festival
External links
* 1337 on AtomFilms
* Random Acts Productions
* Discussion of 1337 in the GEE Mag forums (German)